Learning is the solution to creating thriving organizations for the future. At Mukamas we are on a mission to design and build more learning workplaces where people and businesses can flourish. In this article we explain how leaders can start building an adaptive learning organization.
People learn, how can an organization learn?
Even though every individual has the ability to learn, it does not make an organization that has employees automatically a learning organization. But why is it important that an organization makes learning an integral part of its operations and overall strategy? 
Elisa's (a Finnish market leader in telecommunications and digital services, and our client) CEO Veli-Matti Mattila has said it wonderfully:
"The only sustainable competitive advantage we can have is the eagerness and ability to learn. When we have that, everything is possible." 
From survival mode to agile adaptive learning
In a constantly changing operating environment, the ability to learn is a key to success. Operating in a constant survival mode is taxing and risky. While all change cannot be predicted and prepared for, we can strengthen the agile adaptivity i.e. resilience of organizations.
What makes a resilient organization
According to Deloitte, a resilient organization is one that enables and promotes agile strategies, adaptive cultures and they implement and use advanced technology effectively. In their 2021 Deloitte Global resilience report Deloitte identified 5 characteristics of a resilient business. These are preparedness for eventualities, adaptability, trustworthiness i.e. "focusing on improving communication and transparency with key stakeholders, as well as leading with empathy", collaborativeness and removing silos within the organization, and responsibility towards stakeholders. 
All of these traits also create a solid ground for learning organizations to thrive, in fact it works both ways: an organization that supports constant learning is well prepared for change, adaptable, promotes openness, trust and collaboration and is socially responsible.
"resilience is as much about thinking ahead as it is about doing what it takes to respond and recover from a crisis."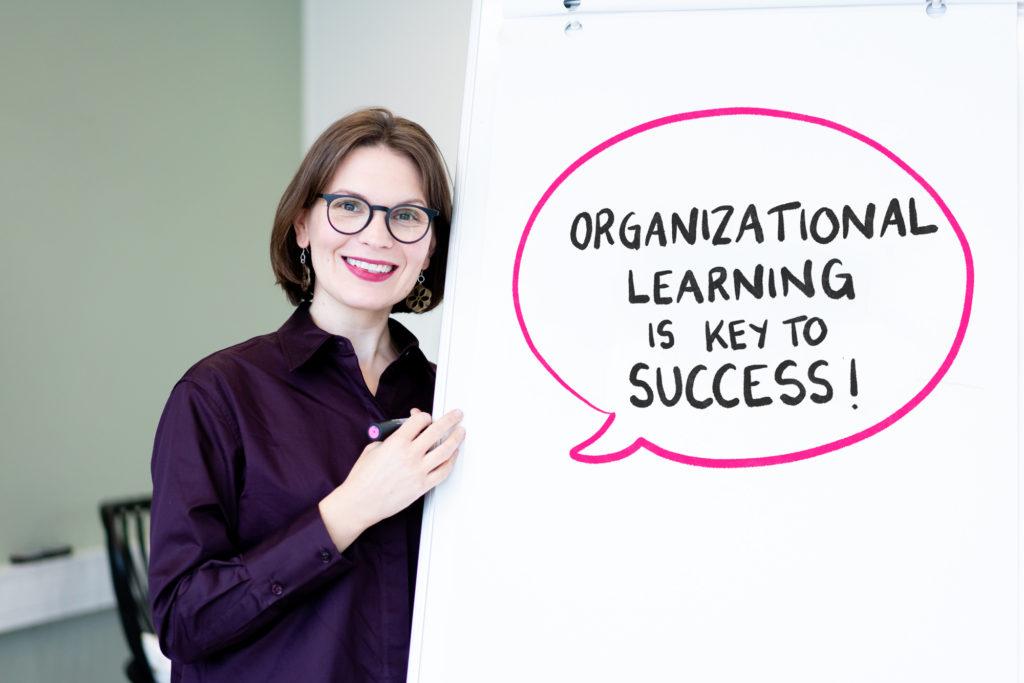 How to build a learning organization?
A learning organization looks at learning from three perspectives: individual, social and strategic. In order for an organization to become a learning organization learning has to be

an integral part of business strategy,

inclusive and learner centric,

supported at all levels of the organization – everyday.
Below we will further explore these three statements.
1. Learning and business strategy
When learning becomes an integral part of all organization's activities it results in agility to adapt and succeed in uncertain times. Therefore, it is important for any owner with their executive team to acknowledge the need for constant and strategic learning to ensure future success of the organization. Supportive systems and frameworks should be created and made available for all levels of the organization. People experienced in building learning organizations should be hired and staff trained to bring forth a learning culture.
2. Learning at all levels of an organization
Learning at its best is social. It could be said that until knowledge or a skill has been tested by reflecting it through dialogue with others or laid in front of people in a real situation it is not yet a proven skill. 
People leaders at all levels of a learning organisation ensure that every member of staff, regardless of role, has the opportunity, resources and freedom to learn at work and have the opportunity to reflect these learnings socially. Frameworks and everyday practices should be in place to ensure individual and team reflection and peer learning, iteration and experimenting at work. 
For an example of how social and agile learning works in practice, read Liisa-Maija's previous article "Eat your own dog food! Case study: Mukamas Team" 
Organizations that wish to thrive in the future and improve their resilisnce should make effort to provide learning opportunities, encourage experiments, visualize paths for self-development, and allow time for learning at work. These kinds of practices promote the development of a learning culture that embraces learning from challenges as well as successes.
3. Learner centric design
Much like in service design, when designing a system for a learning organization the learner is always at the center. It is important to serve the learner in a way that motivates them and offers them a variety of opportunities and learning methods to choose from. 
Individuals that learn and share their knowledge with others benefit the whole organization. An organization is on route to becoming a learning organization once a system that supports continuous learning of all individuals and a framework for sharing tacit information are in place. 
What would you develop next to enforce agile learning in your workplace? What kind of support do you need to take the required steps?
Writers: Liisa-Maija Malinen & Vilma Mutka from Mukamas Learning Design team.