A LEARNING WORKPLACE THRIVES AND FLOURISHES
In thriving businesses and work communities, learning is a source of competitiveness and well-being. The key is to create in people the desire and ability to learn. Learning design helps you build a framework that supports continuous, agile everyday learning.
Learning design is a fresh new way to bring together business and competence development needs. It means agile, learner-centred development that helps address the development challenges today's organisations face. The ability to learn continuously is the most critical working life competence today — and a prerequisite for the entire work community's success.
In our learning design model, we combine tools from both design thinking and collective learning. The theoretical roots of learning design lie deep in social constructivist learning theory, according to which we continuously construct knowledge together. Learning design also draws heavily from systems intelligence and Peter Senge's ideas on the learning organisation.
Originally, learning design referred to a framework supporting learning experiences in primarily digital environments. But in the context of modern workplace learning, the concept refers to a holistic view of learning that happens at all times and places, not only in training.
Learning design starts with stimulating learners' curiosity about their thoughts and actions. In addition to individual learning skills, the elements of success include positive company culture and strategy that values learning, a sufficiently shared understanding of learning needs now and in the future, and methods that support continuous everyday learning.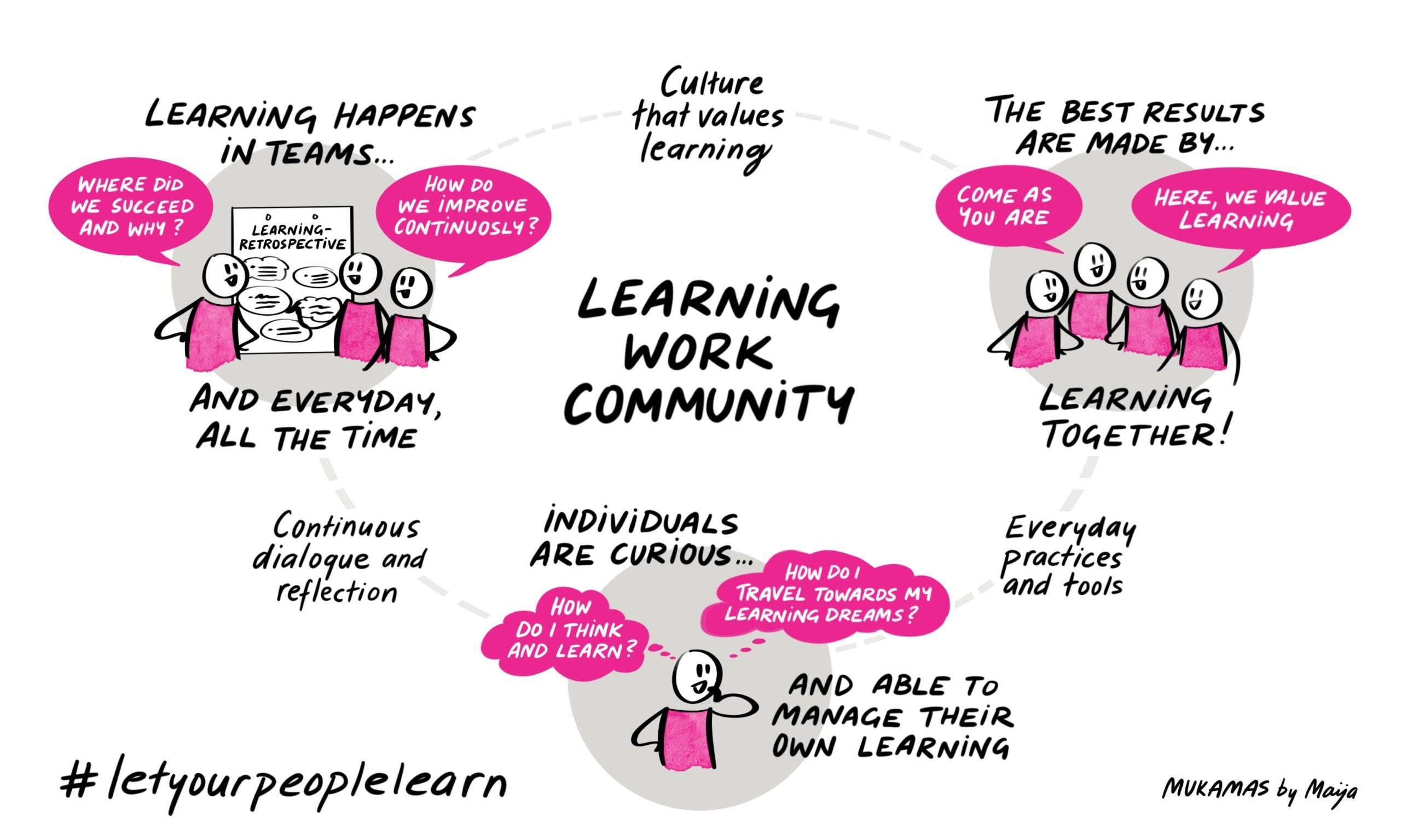 The best and most sustainable results arise from learning together!

Our learning and coaching philosophy is based on the notion that learning takes place through doing, experiencing, and dialogue. We construct new knowledge and understanding together. Concepts like systems intelligence within work communities, team learning, and design thinking also influence our approach. These tenets also form the basis of our learning design model, which harnesses continuous, agile learning as a strategic asset for the work community and business. We believe and see in our client work that learning and work development can be fun — and an experience in itself!

We value continuous development in and outside our professional roles, supporting and encouraging each other. We practise what we preach: with a keen eye on the future, we learn agilely at work and stay up to date with the latest professional developments by attending international training and conferences. We are also active in local and international professional networks. 
Our mission is to create more learning work communities in the world. Discover how we can help you on your learning journey!
DO YOU HAVE A QUESTION OR WANT TO ASK FOR A FREE QUOTE?
WE'D LOVE TO HEAR FROM YOU!
Not sure what service is right for you? Just get in touch, and we'll work with you to find the best solution to meet your needs.