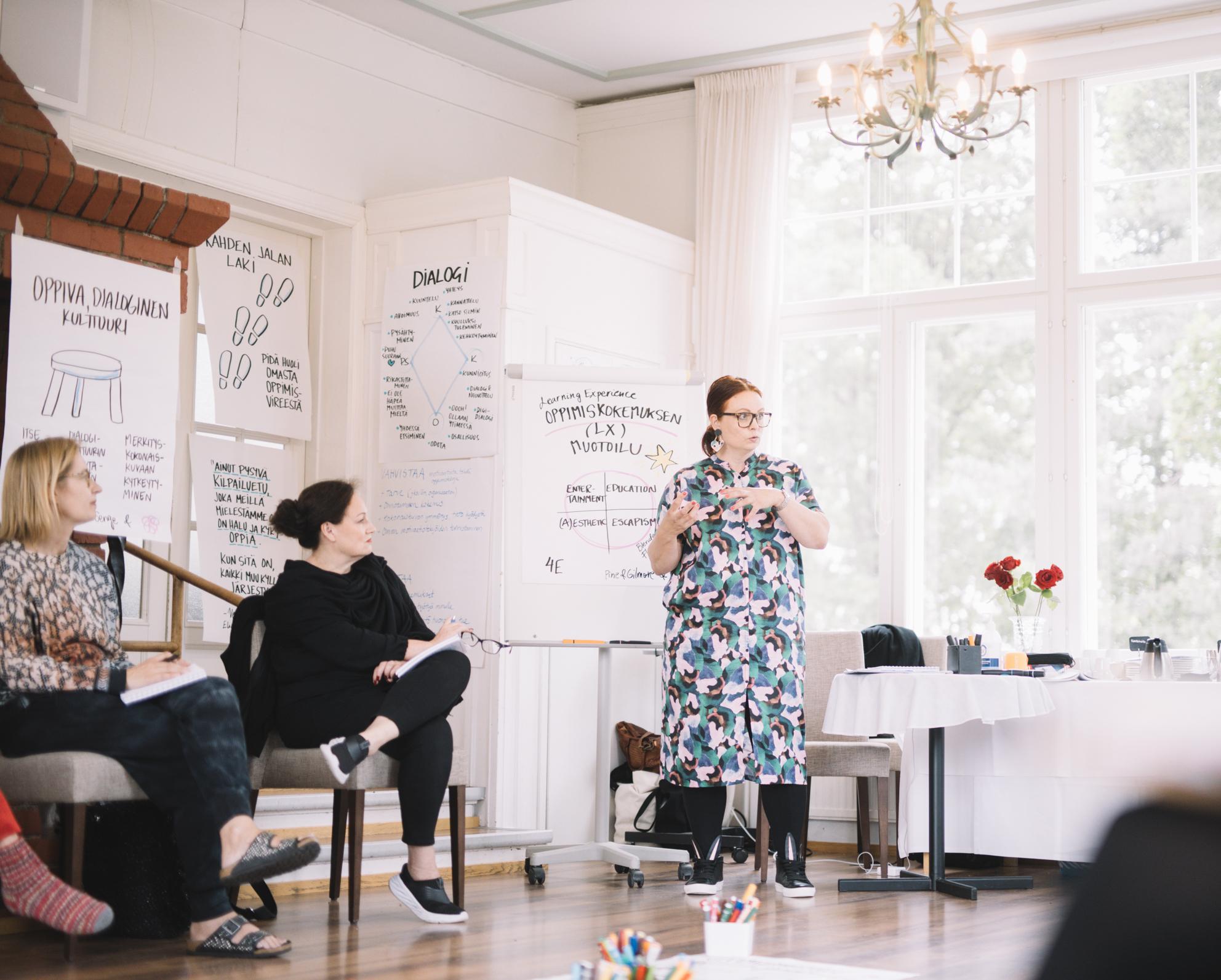 Cultivate the desire and ability to learn — make it a competitive advantage!
Mukamas is Finland's leading learning design agency. We help design learning workplaces — an agile and sustainable learning culture and environment where people and business thrive.
We consult management, coach staff, and provide cutting-edge tools for facilitating and managing learning at work.
The desire and ability to learn — that's a real competitive advantage
We help management identify strategic learning needs and create a competence strategy. We work with you to design a framework for continuous learning that brings business success.
A learning work community emerges from people who learn
We coach management and staff to master everyday learning and facilitation and provide you with the best modern tools and methods.
Implementation is dead. Long live participation!
We facilitate development and strategy processes and energise people to develop their work and collaboration. As a result, you get sustainable practices for everyday working life.
A fresh, agile, and sustainable way to develop working life and organisations through learning.
How do you manage learning?
How do you share the lessons learned at work?
It all starts with a learning individual, but they need to be surrounded by a sustainable learning system and framework.
How do you coach individual learning?
How do your structures support learning?
A practical toolkit for facilitating continuous everyday learning.
How do your management culture and practices reflect learning and continuous competence development?  
Curious about the results we bring?
Read what our clients are saying about working with us!
"We share similar views and ways of thinking, so it's easy to think and create content together with Mukamas. The positive attitude, organisational skills, and commitment of the team also contribute to an effortless collaboration. We can trust that what we've agreed on will happen."
"Mukamas organised one of the most important, if not the most important, training sessions of the year. The collaboration started because we wanted to understand what facilitation could mean in our work and how we could use it in client projects, co-creation, and creating an inclusive atmosphere."
"The benefits we've gotten from working with Mukamas are visible in our everyday operations. For example, in August 2019, we reflected on fine-tuning and developing our work with nearly 100 people. Mukamas has also taught me how to calm down, give space, and create opportunities. I definitely recommend Mukamas to others as well because the service I've received has been excellent!
DO YOU HAVE A QUESTION OR WANT TO ASK FOR A FREE QUOTE?
WE'D LOVE TO HEAR FROM YOU!
Not sure what service is right for you? Just get in touch, and we'll work with you to find the best solution to meet your needs.